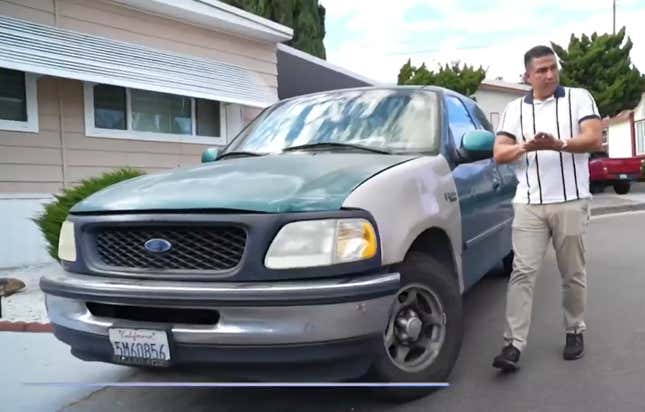 When San Diego resident Sergio Preciado caused a fender bender exiting the 805 freeway last July, he was relying on his car insurance company to make the situation right. Preciado admitted fault in the incident, having crashed his old Ford F-150 into a much newer Acura MDX, and causing around $5,000 in damage to the crossover. After exchanging information, he thought the matter was pretty much handled and went on his way. But his children, who weren't in the car and don't have driver's licenses, we enough for the insurer to cancel his policy and retroactively deny the claim.
2023 Kia EV6 GT | Jalopnik Reviews
When an insurance adjuster called Preciado for details about the crash, the asked if anyone over 14 lived in the house, and he confirmed his son and daughter had become teenagers since he bought the policy. His insurance company sent a letter confirming that since he hadn't named the children on the policy as excluded drivers, the policy was cancelled and his premiums were refunded.
"What does my son have to do with the accident?" Preciado said to NBC 7 San Diego reporters, also mentioning that "he wasn't driving, he wasn't with me at the time of the crash, he doesn't drive at all since he has no license. So why name him?"
According to the California Department of Insurance, the insurance company did not do anything wrong, and was correct to cancel the policy. Your car insurance is intended to cover anyone who might have regular access to your car, including non-licensed people of driving age who live with you, regardless of whether they have permission to drive your vehicles. This includes roommates, children, anyone temporarily living with you, and even college-aged kids who don't live with you anymore. Here's a reminder for you to call your insurance company and update your policy if necessary.
Because of the oversight, Sergio was forced to come up with $5,000 to pay for the car he hit, and his own vehicle won't be fixed beyond the slapdash junkyard repairs he's already affected. Is there anything worse than thinking you're covered for a crash and then being proven incorrect?