Terms apply to American Express benefits and offers. Enrollment may be required for select American Express benefits and offers. Visit americanexpress.com to learn more.

Millions of travelers have a Chase credit card in their wallets … but have you heard of GoPuff? If not, you've been leaving $10 a month (or maybe even more) on the table for years.
GoPuff is a little-known online service that delivers everyday essentials like groceries, toiletries, and office supplies to more than 1,000 U.S. cities. And Chase has an ongoing promotion with GoPuff giving cardholders a reason to use it: A $10 monthly credit for virtually any Chase credit card. Just use it on an eligible purchase of at least $10 on the GoPuff app or website each month, and you'll get a $10 statement credit. Use them all up, and you can get up to $120 a year.
The best part? If you've got multiple Chase credit cards in your wallet, you can get $10 a month with GoPuff on each of them. You'll just have to make purchases separately on each card.
Unless it's extended, this promotion is slated to end on Dec. 31. So remember to take advantage of this GoPuff credit on your Chase credit card while you still can.
Here's how.
 
Chase Cards With $10 GoPuff Credits
Whether you've got a Chase-branded card like the *chase sapphire preferred* or a Chase airline or hotel card, odds are you've got a $10 GoPuff monthly credit to use. Even many no-annual fee credit cards make the cut!
Most personal and business Chase cards are eligible to receive this monthly $10 credit from GoPuff app or web purchases.
The ever-popular Chase Sapphire travel cards – the *chase sapphire preferred* and *chase sapphire reserve* – have a credit. So do popular no-annual-fee Chase Cards like the *freedom unlimited*  and Chase Freedom Flex℠.
Small business owners also get to enjoy this credit with cards in the Ink series like the *chase ink preferred*  and so do the pair of no-annual-fee options: the *Ink Cash* and the *Ink Unlimited*.
Loyal to hotel chains like Hyatt, IHG, and Marriott? The World of Hyatt Credit Card and *ihg rewards club premier* are just a few hotel cards that come with the $10 GoPuff credit.
Are you a frequent Southwest or United Airlines flier? There are plenty of cards – from premium options with high annual fees to no-annual-fee cards – with these airlines that all come with their own GoPuff credit, such as the SW_Plus and *united explorer*.
This list is by no means exhaustive. Check out the full list of cards in the terms and conditions on GoPuff's dedicated Chase page to see if yours makes the cut.
Add Your Card to GoPuff
One great part about this partnership is that there's no need to register in advance. Just add your eligible Chase card to your GoPuff account, use it once a month, and you're done.
First, create an account via the GoPuff app (available in the Apple Store and Google Play) or at gopuff.com. After logging in, click "Payment" under the "Account" tab and add each Chase card that you have.
As you can see below, the offer terms for the Chase and GoPuff promotion are active until Dec. 31, 2023. That means you could could earn up to $20 in statement credits per card if you place an order in November and December before this offer ends.
Just keep in mind that if you've got multiple Chase cards, you'll need to make separate purchases – there's no way to stack multiple cards' credits on a single order.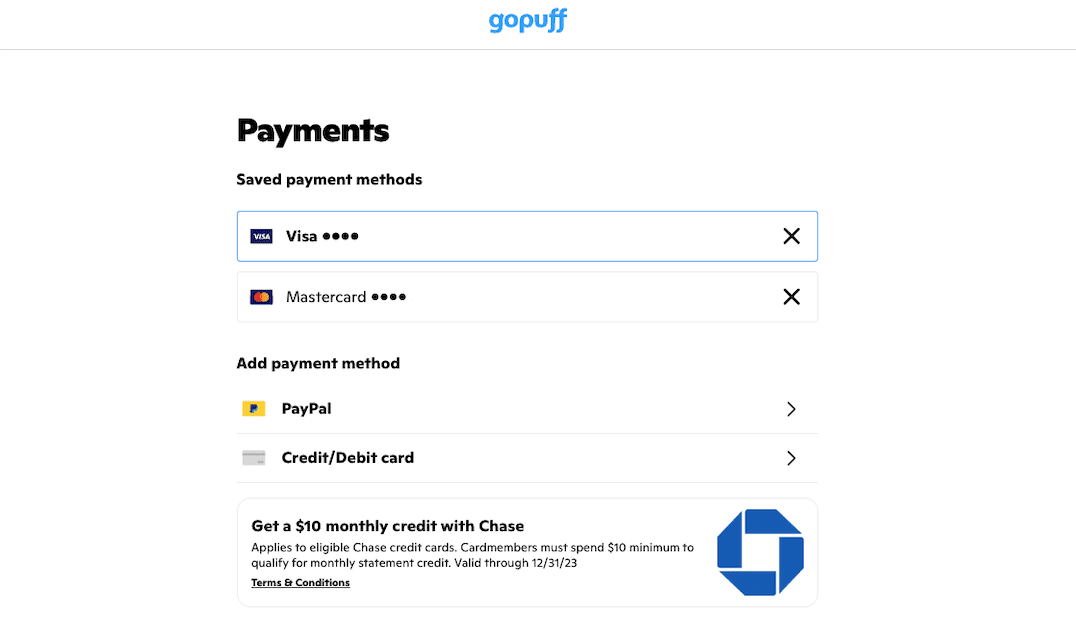 Click on the terms and conditions to double-check your card is eligible.
How to Place a GoPuff Order
Under the "Account" tab, be sure to input your home address and one alternative address, such as your workplace. As GoPuff's service is still only available in limited cities, having extra flexibility for delivery is essential.
Add your $10-plus item (or items) to your cart to ensure the statement credit will apply. Then simply select "My Bag" to begin the checkout process.
 
A word of caution: GoPuff will prompt for you to join their FAM Membership for $7.99 per month. But there's no need, so just click "Continue to Checkout" as you could accidentally opt in and be charged.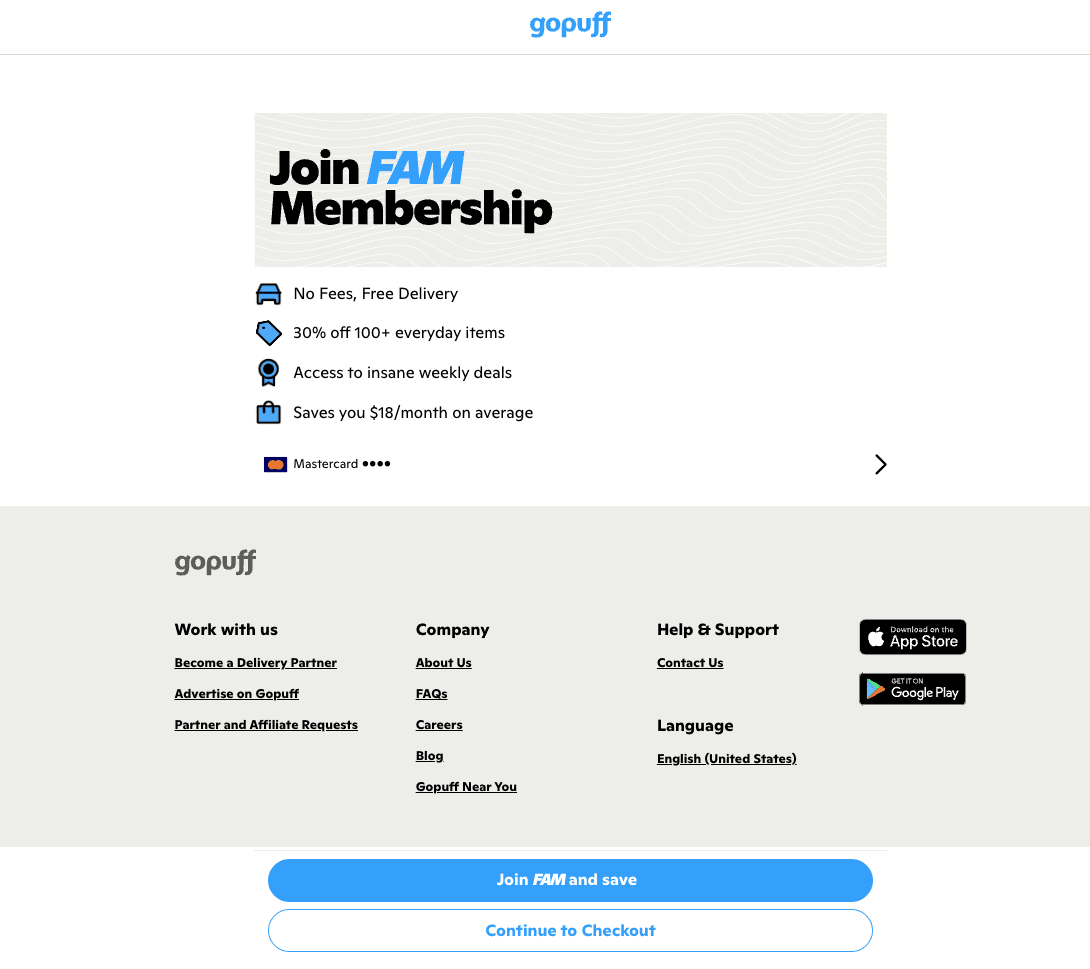 Then just be sure to select one of your eligible Chase cards to pay for your purchase. Adjust the tip, double-check to ensure your order total is over $10, and place your order.
 
Your $10 credit should post to your credit card statement within the span of the current billing period – or the next, at the very latest.
 
How to Maximize the $10 GoPuff Credit
While this Chase benefit is already a nice discount – and an easy way to come out ahead on whatever annual fees you're paying for your Chase card – there are a few different ways to make it even sweeter.
Opt for Pickup Instead of Delivery
Honestly, if my order doesn't offer free shipping, I ain't buying.
For delivery apps, I hate paying additional delivery fees on top of the tip for a driver and all the other taxes and service fees. There's a great way to bypass all of that.
Depending on your home address or chosen delivery location, you may have the option to pickup your GoPuff order at a nearby fulfillment center or BevMo location – a massive chain of speciality beverage stores with locations in Washington, California, and Arizona that is owned by the delivery service company.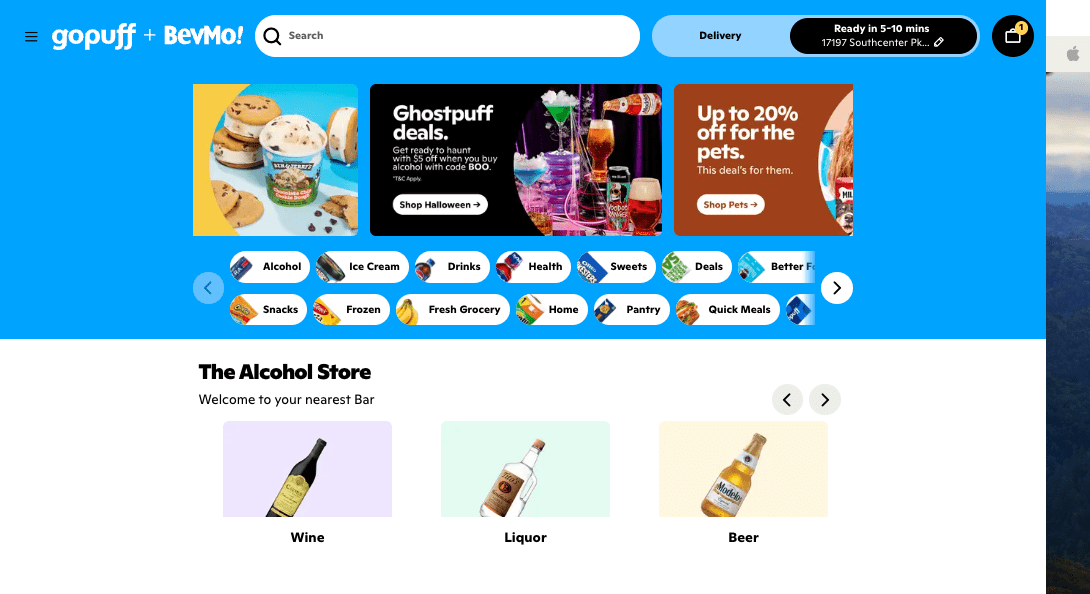 During the checkout process, simply click "Pickup" instead of "Delivery" and follow the steps we spelled out above to complete your order. If it's available, you'll no longer be charged an extra delivery fee and tipping is not required.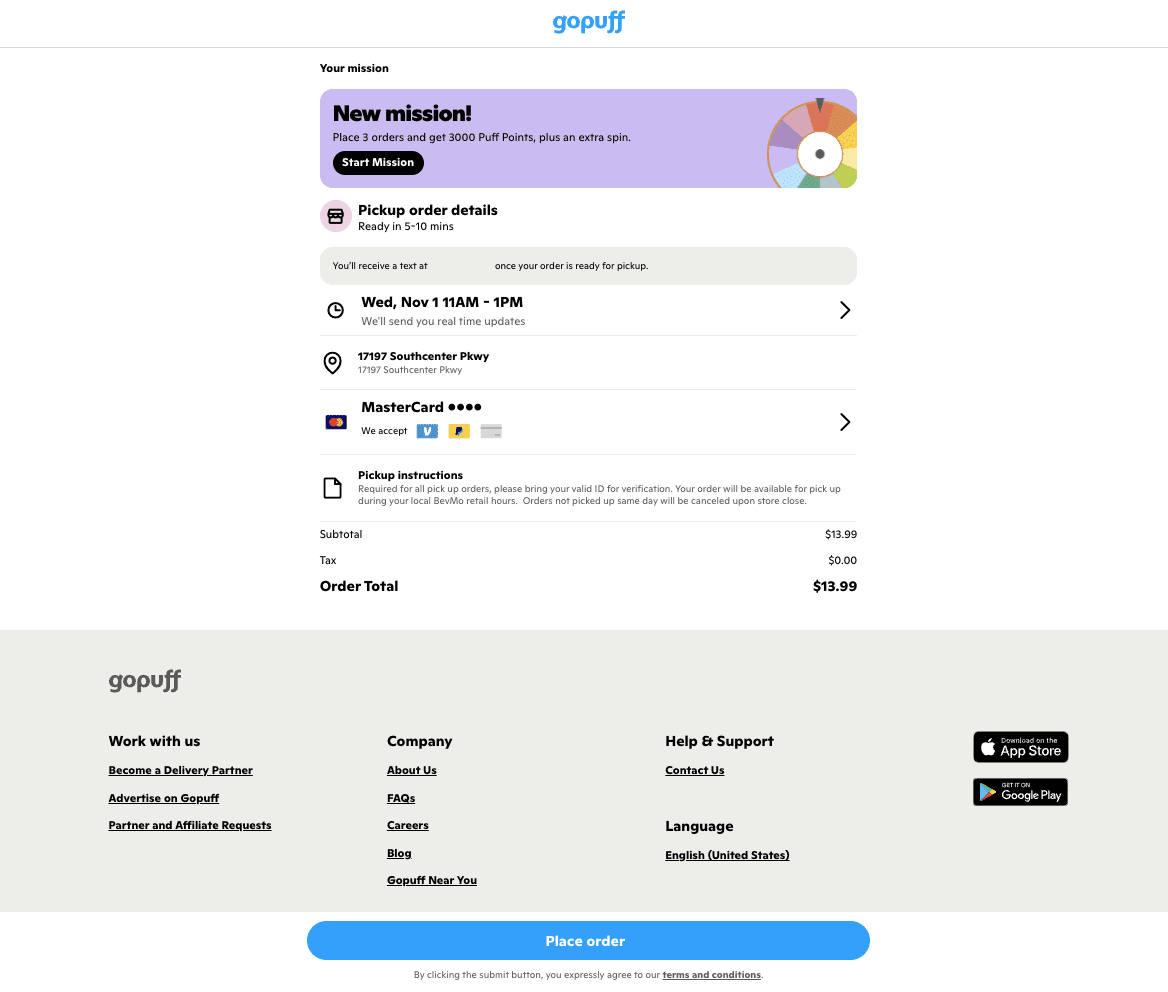 This is a great way to make the most out of the credit and potentially get some items for practically free without the hassle of paying for delivery and service fees, plus tips.
And if you have multiple Chase cards, feel free to use each card to make separate purchases for pick-up. Just be prepared to do some explaining to the store clerks as to why you made two separate orders on the same day. Some customers have been flagged for multiple order, but I've found it safe to place two a day.
Stack it with a Discount Code
If you're like me, you think through every purchase that you make really hard to get the best deal. For many of us, that means scouring the internet for coupon codes to make your order even cheaper.
Fortunately, GoPuff makes it easy with discount codes for new members to get a further discount on their purchases. At the time of publication, you can get $20 off your first GoPuff order with code Welcome20 (restrictions apply). Otherwise, simply search for "GoPuff Promo Codes" or head to a coupon aggregator like retailmenot.com to see if you can find
 
For example, you could stack your GoPuff credit with this promo code and purchase an Apple AirTag for practically free with your first order.
Also, make sure to periodically look at what merchant deals your credit card is offering, like Chase Offers. In the past, Chase has given cardholders an additional statement credit for eligible GoPuff purchases.
Order Through Rakuten
If you're an online shopper and not using Rakuten, you're missing out on valuable cashback – or Amex Membership Rewards points.
Rakuten is an incredibly easy-to-use online shopping portal – with a Chrome browser extension that makes it even easier – to give you additional cashback or points on purchases at thousands of online retailers. Get signed up for Rakuten now! 
 
Currently, Rakuten is offering 2.5% cashback on GoPuff purchases. You'll get that 2.5% cashback on a quarterly basis, through either a paper check or a PayPal transfer. Or if you've got an Amex card like the *amex platinum* and *amex gold*, you can link your Amex account with Rakuten and earn bonus Amex points instead! And there's no need to actually pay with an Amex card when using Rakuten, so you can use up your Chase GoPuff credit and still earn Amex points on the same purchase.
Either way, whatever you get from Rakuten is on top of the Chase GoPuff credit and any other discounts you might have. And it gets even better for first-time Rakuten users.
You could earn an additional $40 bonus after completing your first purchase of at least $40 in the first 90 days after signing up. Full disclosure: We also get a bonus, so we appreciate it if you use our link!
If you simply want to get a nice discount, opting for cashback right now would be the best way to go. Stacking the $10 GoPuff credit with Chase, a generous welcome offer discount, and additional cashback through Rakuten is a rock-solid way to get the most bang for your buck while getting started with GoPuff.
Bottom Line
Let's not leave any free credits on the table now, travelers.
While it might be ending soon, this $10 GoPuff monthly credit is an easy yet little-known way to save on some everyday essentials. And Chase cardholders can get a $10 credit each month for every Chase card they hold.
Have Chase cards with no annual fee? Enjoy your free GoPuff purchases. Have a card with an annual fee like the Chase Sapphire Preferred? Start using the GoPuff credit now to help recoup the cost of your $95 annual fee, in addition to the card's other benefits.