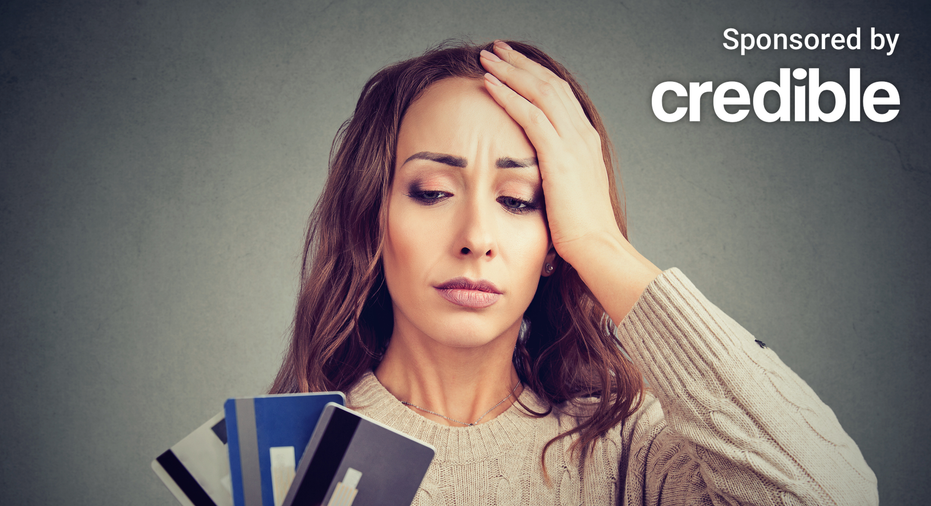 Consumers owed credit card companies more than $105 billion in interest and more than $25 billion in fees in 2022, according to a Consumer Financial Protection Bureau (CFPB) report. Total outstanding credit card debt surpassed $1 trillion for the first time since the CFPB started gathering data.   
"Last year, Americans paid $130 billion in interest and fees on their credit cards," CFPB Director Rohit Chopra said. "With credit card debt crossing the trillion-dollar mark, we will be working to prevent bait-and-switch tactics when it comes to rewards and to increase refinancing activity so consumers can get lower rates." 
Leading credit card issuers have kept interest rates well above key benchmarks like the federal funds target rate, with an average APR margin of 15.4 percentage points higher than the prime rate in 2022, per the CFPB. Consumers who carried a balance paid roughly 20% of their average balance in interest and fees over the course of the year. Cardholders with subprime scores paid 30 to 40 cents in interest and fees per dollar borrowed each year, the report said.  
The total average credit card balances per cardholder returned to about $5,300, roughly the same amount as before the COVID-19 pandemic. "All in all, the data show more cardholders are being charged late fees, falling behind on payments, and facing higher costs on growing debt," the CFPB said. 
Earlier this year, the bureau proposed a regulation to limit an over-abundance of credit card late fees that burden American families with costs. 
If you are interested in taking out a personal loan, you could consider using an online marketplace to compare multiple options at once. Visit Credible to find your personalized interest rate without affecting your credit score.
MANY AMERICANS FEEL STUCK IN THEIR FINANCES AND STRUGGLE TO BUILD SAVINGS: SURVEY
Growing credit card delinquency
Credit card balances have slipped into severe delinquency, as more than 5 percent of balances were at least 90 days overdue in the second quarter of 2023, according to data from the Federal Reserve Bank of New York. That signified a rise from 3.35% in the second quarter of last year. 
Credit card debt saw the largest observable increase among all debt types, surging $45 billion in the April-to-June period amid the expansion of new credit card accounts. 
"Compared to other debt categories this quarter, credit card balances saw the most pronounced worsening in performance, following a period of extraordinarily low delinquency rates during the pandemic," The NY Fed said.
On a monthly basis, more cardholders are sustaining balances or falling behind on their payments, the CFPB indicated in their recent report. 
"Nearly one-tenth of credit card users find themselves in 'persistent debt' where they are charged more in interest and fees each year than they pay toward the principal—a pattern that could become increasingly difficult for some consumers to escape," the CFPB said. The number of individuals dealing with ongoing debt may rise if interest rates stay elevated. 
If you're struggling with high-interest debt in a troubling economy, you could consider paying it off with a personal loan at a lower interest rate. Visit Credible to compare your options without affecting your credit score.
CREDIT CARD DELINQUENCY RATES AND BALANCES ARE ON THE RISE 
Credit card interest and fees outpace rewards for some
Consumers with revolving balances have found that interest and fees have outpaced the rewards they earn from their cards, the CFPB noted in their recent report. 
"In 2022, consumers who carried debt from month to month paid 94 percent of total interest and fees charged but earned just 27 percent of rewards at major credit card companies," the CFPB said. Compare that to consumers who cleared their balances monthly. These cardholders paid only six percent of interest and fees charged and earned 73% of total rewards. 
Cardholders who paid an average of $100 or more in annual fees said they had the highest satisfaction with benefits and rewards earned, even more so than those with cards with lower or no annual fees, the report said. On the other hand, cardholders paying $500 or more in annual fees said they were less happy with the rewards and benefits offered by their credit cards because of the unreasonable fees they paid.
However, one credit card perk consumers are satisfied with are credit card installment plans. Cardholder participation in such plans is associated with a 102-point increase in customer satisfaction (on a 1,000-point scale), the report said. 
Numerous consumers were content with credit card offerings from fintech providers such as Chime, Self, Ollo and others. "Fintech issuers cater especially well to cardholders who are younger, have credit card debt and are more focused on building credit than on earning rewards."
If you're concerned about high-interest debt, you may consider paying it off with a personal loan at a lower rate to reduce your monthly payments. Visit Credible to get your personalized rate in minutes. 
CONSUMERS GROW UNHAPPY WITH CREDIT CARD PERKS AS THEY SPEND AT RECORD LEVELS: REPORT 
Have a finance-related question, but don't know who to ask? Email The Credible Money Expert at moneyexpert@credible.com and your question might be answered by Credible in our Money Expert column.